UPDATE: Canadian edtech startup Knowledgehook wins Google's Game Changer Award at 2016 Demo Day
‍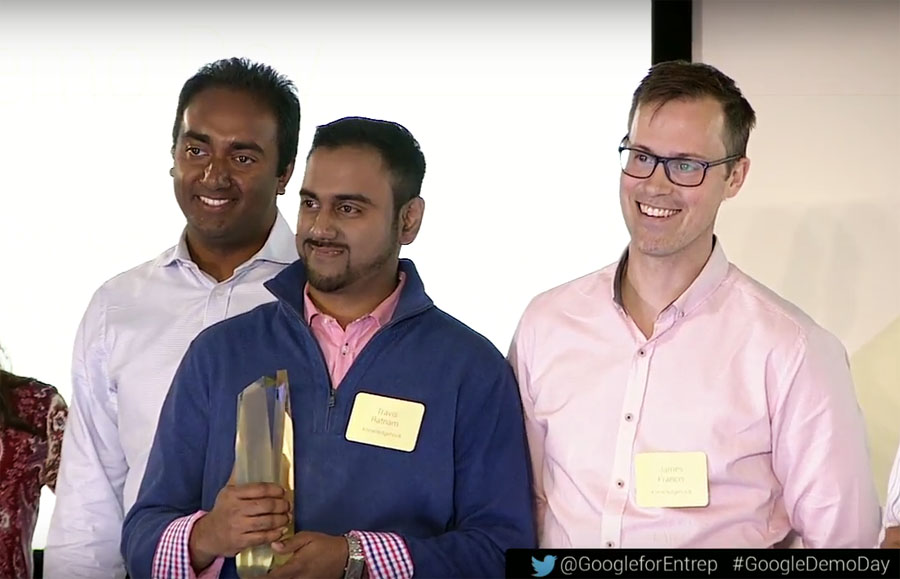 ‍
MOUNTAIN VIEW, Calif. (May 4, 2016) — Canadian edtech startup Knowledgehook today received Google's Game Changer Award at the tech giant's annual Demo Day in Silicon Valley.

Travis Ratnam and James Francis were among the co-founders of 11 new tech companies invited to Silicon Valley to pitch today to a room full of top investors, venture capitalists and judges.

"We're thrilled and grateful to have shared the stage with so many talented and passionate entrepreneurs," Travis says. "The support we've received today will be pivotal to our mission of helping students all over the world build their math skills."

Based in Waterloo, Ont., Knowledgehook helps math teachers adapt their lessons for optimal learning after reviewing predictive insights that the software generates for each student.

Ontario Premier Kathleen Wynne praised Knowledgehook's accomplishment.

"Congratulations to Travis Ratnam, James Francis, Lambo Jayapalan, and Arthur Lui of Waterloo's Knowledgehook on winning Google's Game Changer Award" Premier Wynne said.

"Through real-time play, their software is helping improve the academic performance of math students by recommending alternative teaching practices to educators. This work is a great example of the innovation happening in Ontario and Waterloo region."

A popular exam prep tool among the 5,000 teachers in Canada and the United States who use it, Knowledgehook software unpacks students' misunderstanding and suggests how teachers can address it.

For example, early results from Knowledgehook suggest that at least 1 in 6 Ontario students in Grade 9 Applied Math are struggling to understand ratios. The finding, which echoes those of Ontario's 2015 standardized tests, is based on analysis of more than 2,400 anonymized users between September and April 2016, accurate to within 95% confidence, and a margin of error of 2.5%.

"We're optimistic that the accuracy and timeliness of Knowledgehook's insights will advance school boards in their efforts to improve students' academic performance," Travis says.

"We've enjoyed working with 12 Ontario school boards so far and look forward to collaborating with many more in the near future."

To be selected to participate in Google's annual Demo Day, startups must be legally incorporated and headquartered in the United States, Canada or Mexico and be actively raising a Series A round of between $1- and 4-million.

Knowledgehook, a company founded in 2014, is grateful for the support of mentors from Communitech's Rev and the Accelerator Centres' AC JumpStart programs, and, for recent funding delivered by Ontario Centres for Excellence (OCE).
MEDIA CONTACT
Qamar Qureshi
CFO & Investor Relations